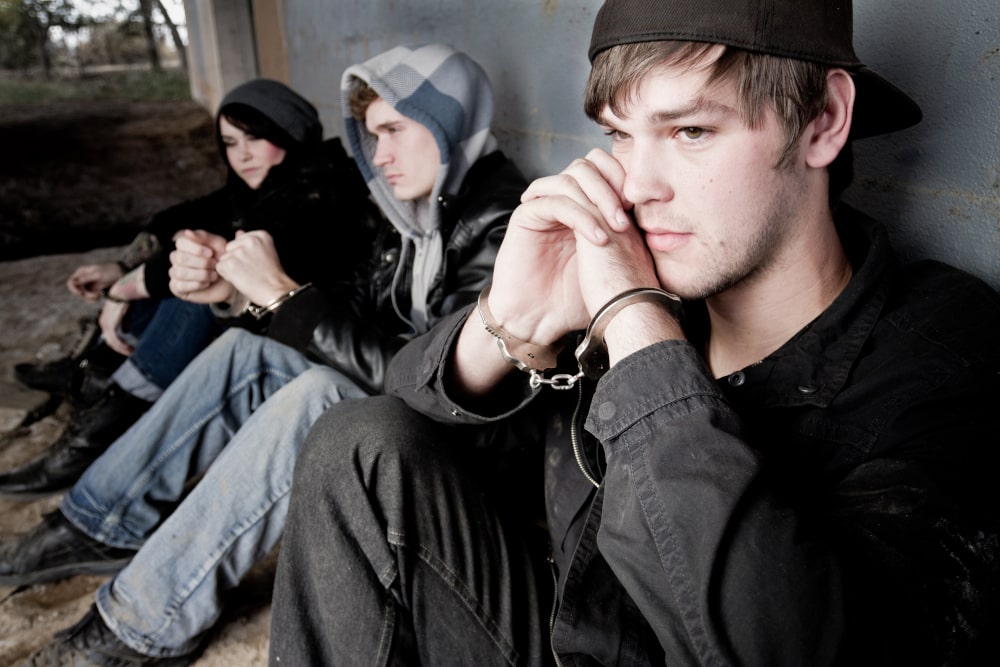 Youth Charged with a Crime: Most Common Youth Offences in Canada
Criminal activity by Canadian youth has significantly declined both year-over-year and over the past decade, according to the latest Statistics Canada examination of police-reported crime. According to the report—"Police-reported crime statistics in Canada, 2020"—58,516 youth (ages 12-17) were accused by police of a Criminal Code offence in 2020, almost 26,000 fewer than the 84,139 reported in 2019. "Between 2010 and 2020, the rate of youth accused of crime fell 63% and the [Youth Crime Severity Index]—which measures both the volume and severity of crime involving youth accused (charged and not charged)—fell 53%," according to the report.
In Ontario, the Youth Crime Severity Index declined by 55% from 2010 to 2020, giving the province a current score of 36.6. This puts Ontario lower than the national score of 42.3, and lower than all provinces except British Columbia, Nova Scotia, Prince Edward Island, and Newfoundland and Labrador. The index ranks Ontario as seventh lowest in violent crime severity, but only second lowest in non-violent crime severity. This latter measure suggests that, other than Nova Scotia, Ontario has the lowest rates of non-violent crime in the country.
While the report suggests that the impacts of the COVID-19 pandemic likely influenced the large year-over-year decline in youth crime across Canada, it also lauded the Youth Criminal Justice Act for its apparent role in longer-term reductions in youth crime rates. It should be noted that a key focus of the Act is to divert youth away from the criminal justice system whenever possible. However, this does not affect the statistical reporting, as it is based on youth criminal incidents reported by police, whether the offender was actually charged or, instead, diverted from the formal criminal justice system.
Youth Crime Decline More Dramatic Than Overall Decline
While youth crime rates have been on a somewhat steady two-decade downward trend, overall (youth and adult) crime rates had registered five consecutive years of annual increases until 2019. This, despite a 2010 Statistics Canada finding that the rate of those accused of a criminal offence peaked at 18 years of age and then noticeably decreased with increasing age. In fact, in 2010 the overall crime rate for those ages 17 and 18 was more than twice that for all ages over 30. Thus, with a steady decline in youth crime rates, one might be tempted to assume that overall rates should decline, as well. However, this wasn't the case for most of the latter half of this decade.
The 2019-2020 crime rate declines were far more dramatic for youth than the overall population. The overall total violent crime rate declined 2%, while the youth rate declined by 24%. The overall property crime rate dropped by 13% for the year, but the youth rate decline was far more substantial at 40%. Other noteworthy declines included:
Robbery—Overall, -18%; Youth, -31%
Breaking and entering—Overall, -16%; Youth, -25%
Theft under $5,000—Overall, -20%; Youth,-44%
Shoplifting under $5,000—Overall, -36%; Youth, -64%
Administration of Justice (failing to comply with legal orders)—Overall, -17%; Youth, -31%
Simple Assault—Overall, -7%; Youth, -27%
Sexual Assault level 1—Overall, -9%; Youth, -13%
Report Highlights Most Common Youth Offences in Canada
The annual report highlights which criminal offences are most prevalent among Canadian youth, assuming that arrest rates are at least somewhat proportional to the rates of actual activity. From a pre-pandemic perspective, simple assault, shoplifting under $5,000, mischief, and administration of justice violations were the four most common youth offences. Rates ranged from 514 per 100,000 for simple assault to 372/100K for administration of justice violations. Subsequent pre-pandemic common youth offences included:
Uttering threats—209/100K
Assault with a weapon or causing bodily harm—181/100K
Theft of under $5,000—163/100K
Breaking and entering—134/100K
Robbery—125/100K
Sexual assault—95/100K
Disturbing the peace—91/100K
Total drug offences—91/100K
While the rates for all of these offences dropped in 2020, the order of their prevalence remained the same, with two exceptions: shoplifting under $5,000 dropped below administration of justice violations, while breaking and entering dropped below robbery.
Some youth crime rates are similar to the overall rate, though there are some distinct differences depending upon the crime. For example, rates for the different types of assault, all levels of sexual assault, child pornography, arson, weapons, and firearms violations are fairly similar for youth and overall. Likewise, with uttering threats and, at least pre-pandemic, shoplifting under $5,000.
Overall crime rates tend to be distinctly higher than those of youth crime rates for the majority of listed crimes. Notable exceptions include:
Sexual violations against children
Robbery
Non-consensual distribution of intimate images
Overall crime rates that significantly exceed youth crime rates include:
Breaking and entering
Motor vehicle theft
Theft over $5,000
Theft of $5,000 or under
Total drug offences
Fraud
Identity theft
Mischief
Disturbing the peace
Impaired driving
Administration of justice violations
Criminal harassment
Indecent or harassing communications
How Youth Criminal Justice Act Addresses Youth Crime
Due to a lack of research, the extent to which the decades-long reduction in youth crime can be attributed to provisions in the Youth Criminal Justice Act is unknown. The Act's focus on diverting young offenders from the legal system, as well as on rehabilitation rather than punishment, likely helps reduce recidivism, but no studies have yet conclusively proven this.
Whatever the case, the Youth Criminal Justice Act certainly provides youthful offenders with "second chances." Anyone under the age of 18 facing criminal charges should do everything in their power to avail themselves of provisions in the Act that may mitigate their severity and/or nullify them altogether. In fact, with less-serious charges the Act encourages police and prosecutors to divert offenders from the legal system through the imposition of extrajudicial measures. Such measures include:
A simple verbal warning from police
A written caution by police
A written Crown caution from the prosecutor
Referrals to community programs, counseling, or other resources
Court-approved extrajudicial sanctions that forestall court action based on compliance with specific terms and conditions.
If criminal charges are laid and results in a conviction, the Act requires that sentencing promotes rehabilitation and reintegration into society. In particular, youth sentences must:
Not be more severe than adult would receive for the same offence.
Be similar to sentences handed down in other youth criminal cases.
Be proportionate to the degree of responsibility by the offender and the seriousness of the offence.
Be the least restrictive alternative.
Be most likely to promotes rehabilitation.
Will encourage the offender to acknowledge their responsibility for the offence and harm done to society and any victims.
Consult with Mass Tsang for your Youth Criminal Defence Needs
If you or a loved one is facing potential criminal charges in Ontario as a youthful offender, consult with an experienced criminal lawyer to help navigate the most favorable outcome under the Youth Criminal Justice Act. With detailed knowledge of the Act's provisions and the Crown's approach with youthful offenders, Toronto criminal defense team will strive to divert your case from the legal system through extrajudicial measures. If charged as a youthful offender, our lawyers will prepare a vigorous defence as warranted and/or seek out the most favorable sentencing option allowed for under the Act.