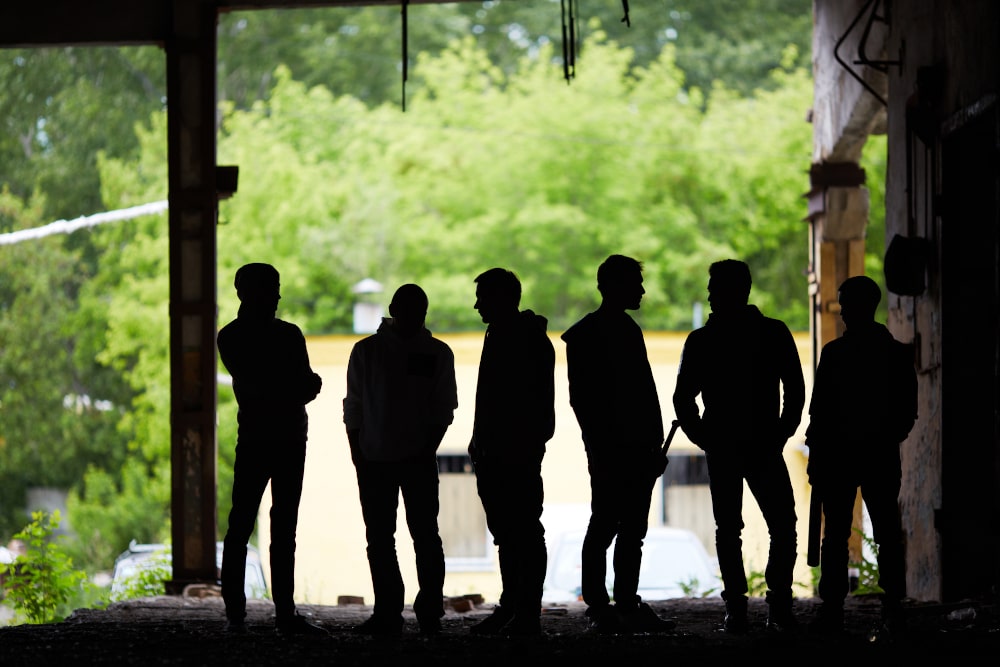 Criminal Gangs and Organized Crime in Ontario
You might be surprised to learn that Ontario has the lowest rate of violent crimes across all provinces and territories in Canada. According to Statistics Canada, Ontario's 2020 rate of nearly 898 violent crimes per 100,000 residents comes in well below other provincial and territorial rates, which range from 1,116 to 12,027 incidents of violent crime per 100,000 people.
These statistics are especially surprising given that Ontario has a reputation for having high levels of gang violence, and for being a hotbed for organized crime. However, while overall violent crime rates have been declining over the past decade, street gang-related gun violence has significantly increased, with much of the increase occurring in the Greater Toronto Area. Additionally, other organized crime groups (OCGs), such as the Mafia and assorted outlaw motorcycle gangs, have been making respective headlines with ongoing turf battles and related murders.
Meanwhile, there is increasing evidence suggesting that Ontario-based Mafia and motorcycle gangs are using street gang members to carry out their criminal activities. This represents a shift from previous decades, when the Mafia relied on motorcycle gang members as their mercenaries.
Getting a Read on Gangs and Organized Crime in Ontario
The Royal Canadian Mounted Police (RCMP) categorizes OCGs as either street gangs, outlaw motorcycle gangs, or internationally connected criminal organizations, such as the Mafia. While some street gangs and OMGs, such as MS-13 and the Hells Angels, also have international connections, they lack the sophistication and long-standing history of more traditional Mafia-style OCGs, thus the differentiation.
Overall, the RCMP estimates that more than 2,000 OCGs are currently operating in Canada, of which about 430 are characterized as street gangs. However, getting a read on the actual numbers of organized crime groups in Ontario is a tall order, in large part due to the fact that most criminals try to keep their activities secret.
Who is on Top of the Ontario Organized Crime Group Pyramid?
The Mafia has been operational in Ontario since the early 1900s. While the RCMP believes that there are 25 distinct Mafia groups operating in Canada, with most being based out of the GTA and Montreal, noted criminologist Anna Sergi suggests that Ontario is home to up to 50 Mafia groups. Ontario's Mafia presence is believed to be dominated by the 'Ndrangheta, which is considered one of the world's most powerful crime syndicates of Italian origin. Other Mafia-style international crime groups believed to have an Ontario presence include the Asian triads, Jamaican posses, South American cartels, and Eastern European and Russian bratvas ("brotherhoods").
The Italian-style Mafia, though, has been getting most of the organized crime headlines of late. With a suspected power struggle among various 'Ndrangheta families, several reputed mobsters have been gunned down since 2017. The Ontario-based 'Ndrangheta also took a hit in 2019, with the largest Mafia bust in Ontario history. While that investigation led to the arrest of nine alleged high-level Ontario mobsters, 12 Italian mobsters, and the seizure of $35 million in assets, charges against the Ontario suspects were stayed due to alleged illegal wiretapping by police.
Motorcycle Gangs in Ontario
The RCMP defines an outlaw motorcycle gang as such when its members:
voluntarily band together
Follow the OMG rules
Engage in criminal activities
While OMGs are based in every Canadian province, Ontario seems to have the most biker gangs. The Hells Angels, North America's largest and most notorious biker gang, has 44 chapters in Canada, 16 of which are based in Ontario. Up to 15 Hells Angels affiliate clubs may also have a presence in Ontario. Fourteen of the known 20 Canadian chapters of the Outlaws Motorcycle Club are located in Ontario, while three of Bacchus's 10 Canadian chapters are located in the province. With seven Ontario chapters, the Rock Machine was formed in 2007 by ex-members of the Bandidos Canada. That OMG disbanded after the notorious 2006 execution-style massacre of eight of its members in Sheddon, Ontario.
Ontario Street Gangs Ramping Up Presence
Ontario street gang violence has become such a significant problem in recent years that the province announced this month that $75.1 million in new funding would be added to its 2018 Guns, Gangs and Violence Reduction Strategy. This multi-pronged strategy is designed to:
Establish a gun and gang mobile prosecution unit to streamline the prosecution of major gun and gang cases.
Create a provincewide analytics working group to better coordinate inter-police services investigations into gun and gang activity and trends.
Expand border enforcement security teams tasked with curbing the flow of illegal guns into the province.
Enhance support for specialized investigations into gangs and gun smuggling.
Create a provincial database of gun and gang activity.
Disrupt illegal drug supply networks.
The recent increase in funding was approved based on data showing that gang activity has ramped up during the COVID-19 pandemic. According to the province's Criminal Intelligence Service, the number of street gangs involved in the opioid market has more than doubled, while the number involved in the methamphetamine market tripled. The service also believes that street gangs are now responsible for almost 50% of all firearms trafficking, and that 90% of identified street gangs use firearms to support their criminal activities.
While also referred to as youth gangs in Ontario, most street gang members are adults. However, police researchers believe that most adult gang members get their start in youth gangs. Getting a read on the exact number of street gangs — youthful or otherwise — in Ontario is difficult. Many gangs are small, and may be short-lived or go inactive due to changing allegiances, arrests, or other factors; this is one of the many reasons most gangs try to remain anonymous.
Overall, researchers estimate that there are roughly 150 street gangs at any one time operating in the Greater Toronto Area. Ontario law enforcement agencies periodically decrease this number with large-scale investigations that lead to numerous arrests; in June of 2018, a multi-agency police force conducted raids that led to the arrest of 70 Toronto-area suspects with ties to the notorious Five Point Generalz (also known as "5PG") gang, after which, in 2020, a multi-agency task force arrested 114 suspects across the province believed to be affiliated with the Eglinton West Crips. Both raids also resulted in the seizure of dozens of firearms, large quantities of illegal drugs, and cash.
Involvement with an OCG is Inherently Illegal
Whether it be a street gang, outlaw motorcycle gang, or Mafia-style gang, know that according to the Criminal Code, involvement in a gang or its activities — or even being aware of a gang's past, present, or future criminal activities - can result in charges that carry up to 14 years in prison. This falls under the Code's "Conspiracies" provisions, which holds that the prosecution does not have to prove that an OCG "actually facilitated or committed an indictable offence."
In fact, it is a reality that some of the street gang members charged in the recent large-scale arrests are facing charges of a similar nature.
Consult with Mass Tsang for your OCG Criminal Defence Needs
If you or a loved one is facing potential criminal charges in Ontario as a result of affiliation with an OCG, consult with an experienced criminal lawyer to help navigate your chances. With experience defending suspected OCG members against a wide variety of charges, our highly skilled lawyers at Mass Tsang will strategize a defence designed to avoid conviction, or to mitigate the seriousness of your charges.